Ball Valves
Ball valves are generally used for on/off service, but can range from simple molded-in-place construction to high-end industrial designs with many features and benefits. Multi-port ball valves allow for mixing, diverting, and bypassing flow. Multi-port ball valves allow for mixing, diverting, and bypassing flow. Extensive material options provide for complete chemical compatibility in highly corrosive processes. Many ball valves feature full port flow, blocking true union ends, and compact ergonomic designs allowing for simple installation and maintenance.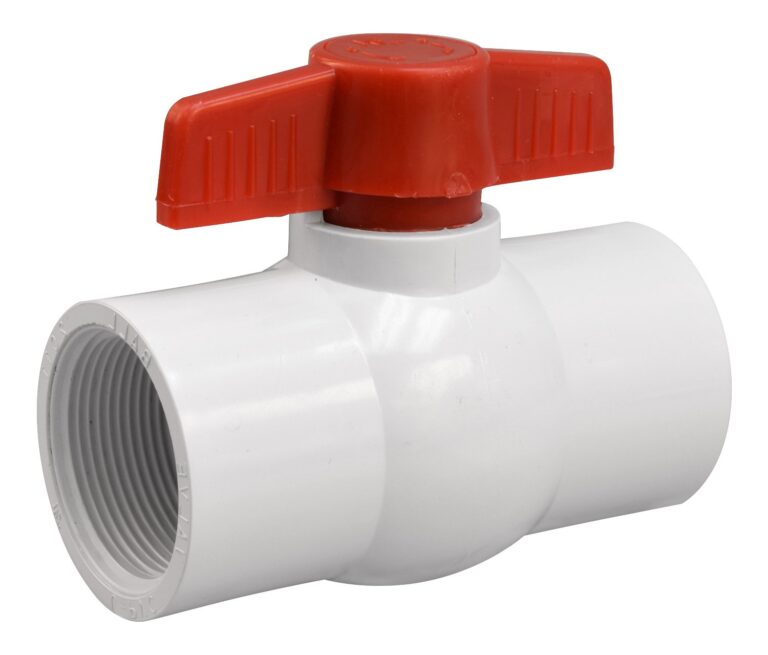 Diaphragm Valves
Diaphragm valves offer many combinations of body and elastomeric diaphragm materials. The valve design is abrasion resistant and non-clogging. When the diaphragm, which is connected to the stem of the valve by a compressor, is pulled away from the bottom of the valve body or weir, the path of the fluid has smooth, streamlined flow. Slurries at low pressure that would normally clog most other valve designs easily pass through a diaphragm valve. The bonnet and working parts are completely isolated from the line fluid and only the body diaphragm materials must be considered for service compatibility. The valve is a top-entry design, allowing in-line maintenance. The valve is suitable for throttling and ON/OFF service in applications ranging from water treatment to chemical abrasion processes. Diaphragm valves are operated manually, electrically, or pneumatically.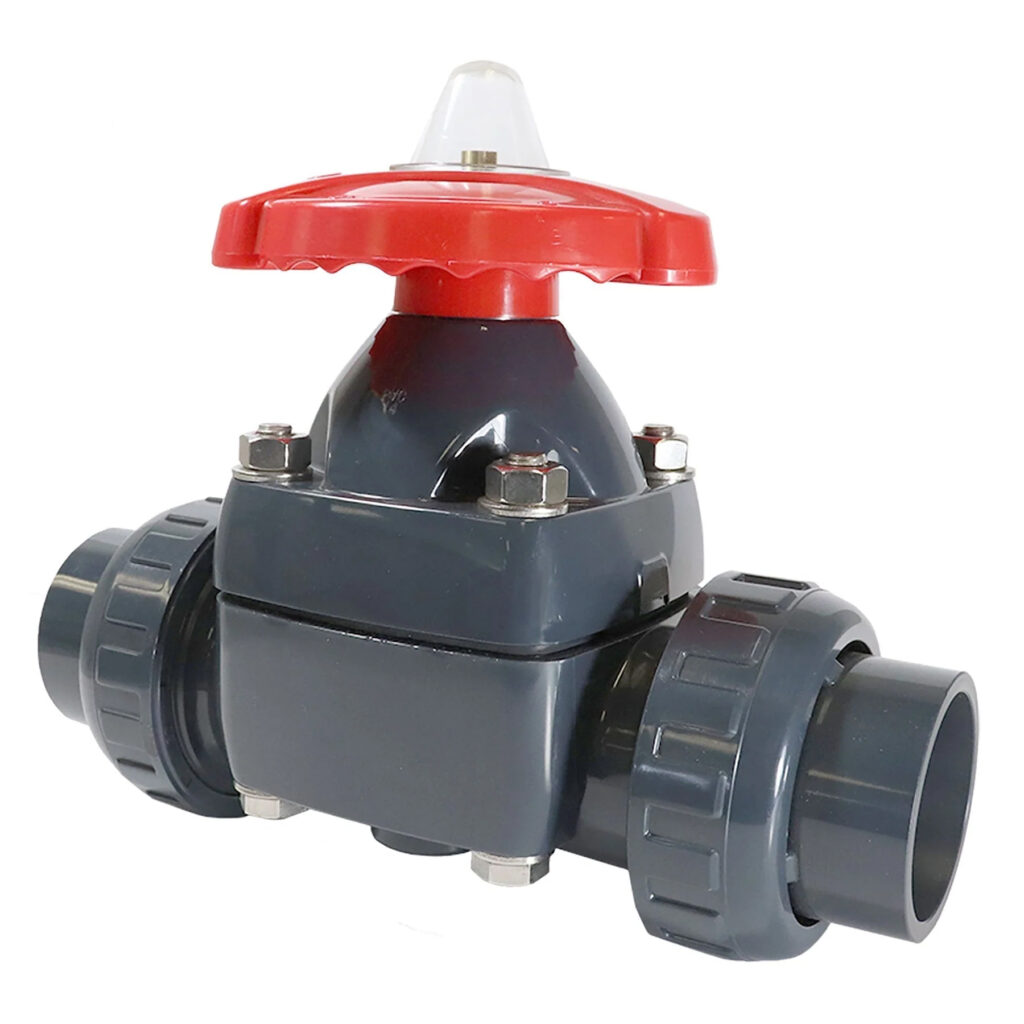 Butterfly Valves
Butterfly valves are quarter turn valves with equal percentage type flow characteristics. They provide moderate flow control and therefore can be used for both on/off and modulating service. Good tolerance to suspended solids but not recommended for use with slurries or debris. The butterfly valve is well suited for a wide variety of fluid flow applications.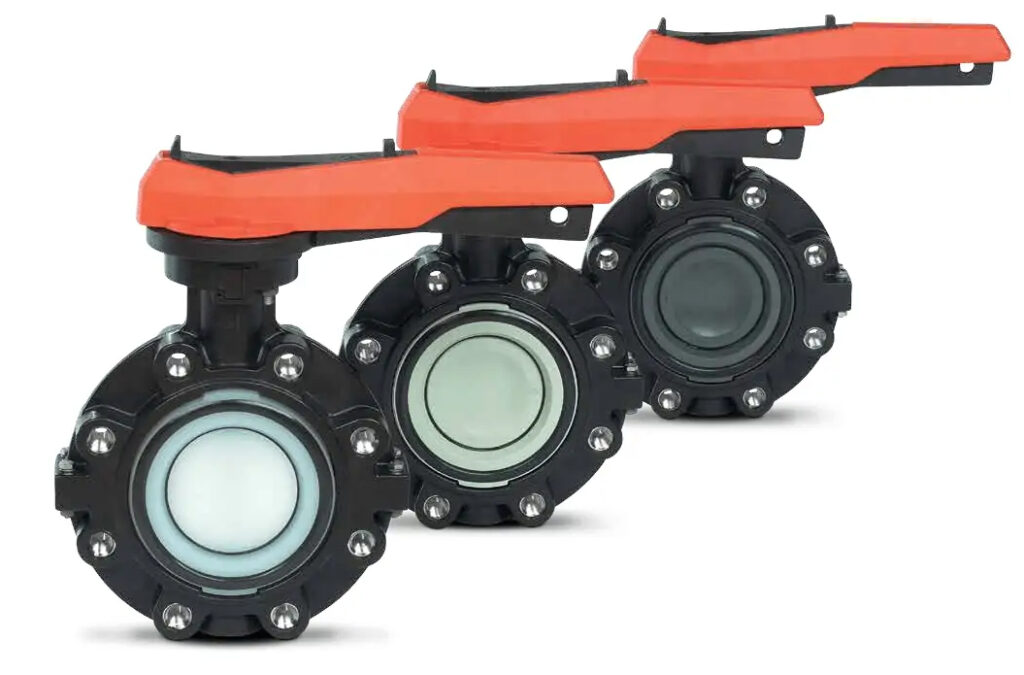 Check Valves
Check valves are self-contained, automatic valves, which are used to prevent the reversal of flow in a line. When open and under flow pressure, the checking mechanism will move freely in the media, offering very little resistance and minimal pressure drop.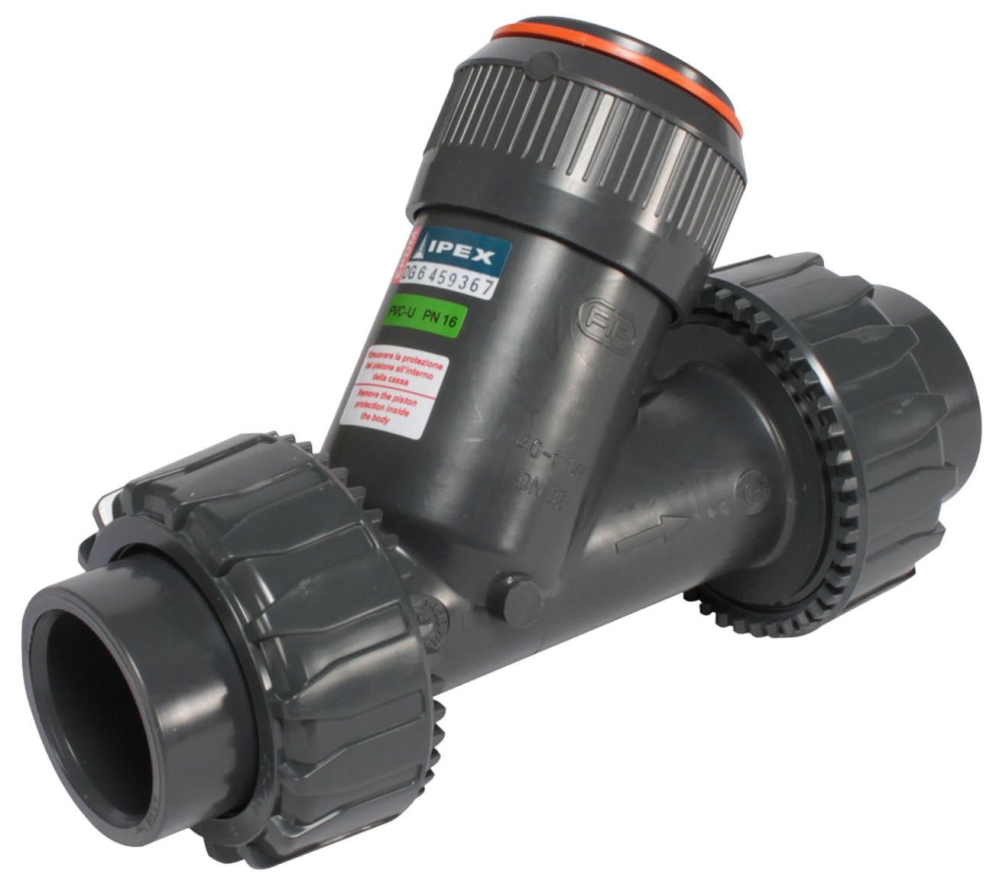 Regulating Valves
Spring operated, air operated & differential pressure regulators -- also known as pressure reducing valves or forward pressure regulators Pressure Regulators help you manage pressure "downstream" of the valve.
Uses of these versatile regulators…
Prevent overpressure conditions to downstream equipment such as filters, sensitive tools, etc.
Convert excessive or wildly fluctuating upstream pressure to a constant predetermined downstream pressure.
Control pressure differential (Delta P) across downstream system equipment.
Regulate to the correct pressure range so that a flow system or piece of equipment can operate safely and effectively.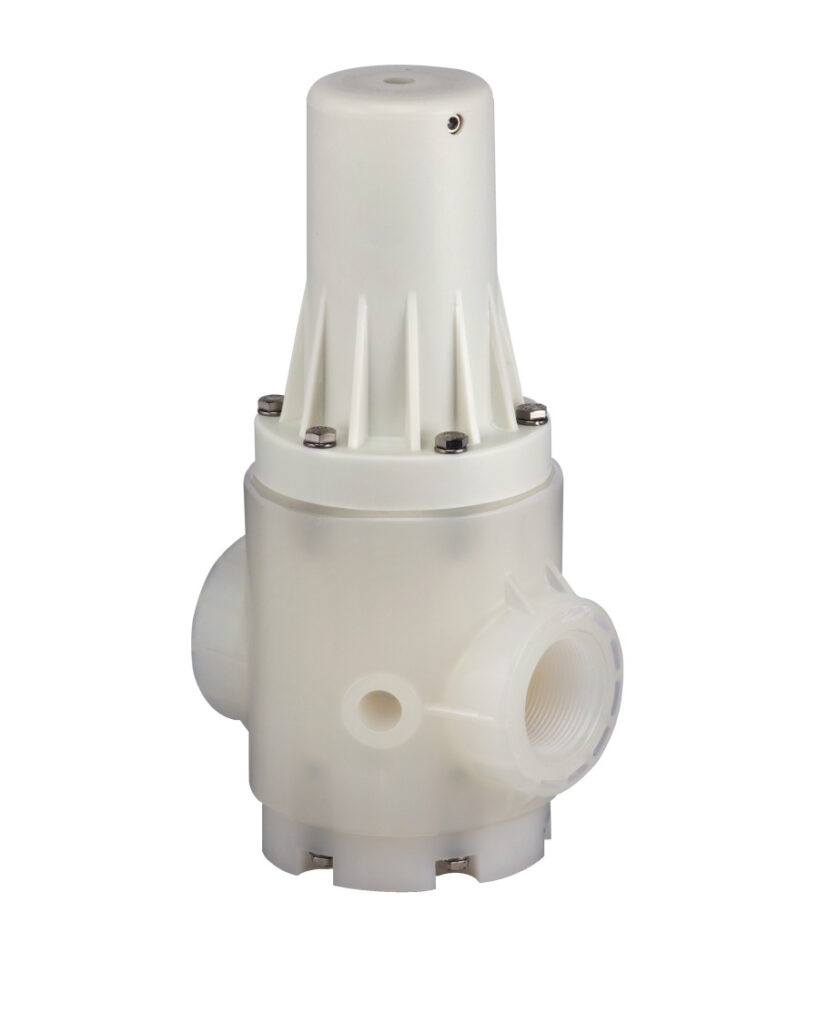 Relief Valves
PTFE Diaphragm Relief, By-Pass, Anti-Siphon and Back Pressure Valves for Smooth, Sensitive Operation and the Ultimate in Corrosion Resistance ...with No Wetted Elastomers or Metals!
Applications:
One valve design functions as an all-purpose backpressure valve in many applications:
Relief: protects systems and equipment from over-pressure/pressure surges.
By-Pass: prevents pumps from "dead heading".
Back-Pressure Regulator: maintains necessary reverse pressure in closed loop systems.
Back-Pressure Valve: enhance pump performance by maintaining backpressure on the pump outlet
Anti-Siphon: used on the outlet of a pump wherever gravity or other downstream conditions may create negative pressure (siphon) and drain a tank. The valve is pre-set to open under pump pressure, but closes bubble-tight when the pump is shut off. Because of the design of the RVDT, this valveactually closes more tightly when unwanted siphon occurs.
Materials, Sizes & Features:
Geon® PVC, Corzan® CPVC, Natural Polypropylene, and Kynar® PVDF body materials in 1/4″, 1/2″, 3/4″, 1″, 1 1/2″ and 2″ sizes.
PTFE body material offered in 1/4″ – 1″ sizes.
Relief setting is infinitely adjustable from 5 psi to 100 psi.
Maximum inlet pressure is 150 psi.
Diaphragm material is PTFE for all sizes and body materials, and is excellent for use with highly aggressive liquids…provides the ultimate in contamination-free sealing.
Rugged thermoplastic construction is ideal for a broad range of industrial applications.
Large diaphragm area delivers more sensitivity and less pressure drop under flow conditions.
Non-wetted u-cup seal provides a second isolation of the control spring; design includes patented Fail-Dry vent, a safety feature that provides visual warning of seal malfunction. This permits the valve to continue operation until a scheduled maintenance can be planned thereby avoiding a costly shutdown. Fail-Dry connection on Series RVDT is 1/8″ FNPT.
Non-leaching feature of fluoropolymer diaphragm makes it ideal for use with ultra-purewater and concentrated etchants, as in the semiconductor industry.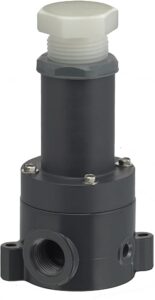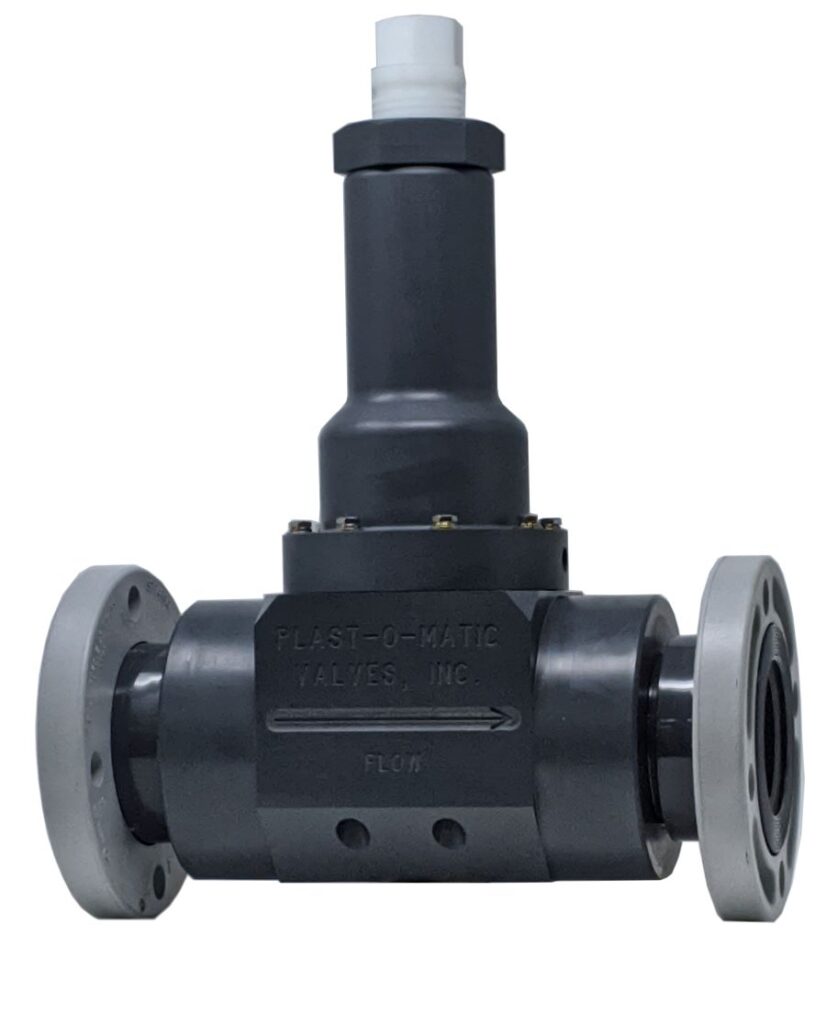 Speak with a Dedicated Ayer Sales Representative
By exceeding expectations and providing superior service, Ayer Sales adds value to the products we sell and develop the trust and loyalty of our customers. We pride ourselves on knowing the technical aspects of the products we distribute. So ask us anything!